Bishop Pine Pinus muricata
Bishop Pines are a coastal resident and most often found growing within sight of the sea. In the Santa Lucia Mountains Bishop Pines are rare and occurs naturally in the very northern end of the range (on the Monterey Peninsula) and southern end (near San Luis Obispo).
Bishop Pines are highly variable in shape and size, from twisted to straight, and "dwarfed" to tall. Trees in this region generally reach mature heights of 30 to 60 feet. Needles are in bunches of two, 4-6 inches long. The female cones are asymmetrically egg-shaped with sharp spines, closed, and stay attached to the limb.
Bishop Pines do not fit neatly into a singular descriptive category and have inspired debates among taxonomists. There is a distinction between the northern and southern species, with plants in this region displaying intermediate characteristics of both north and south. Adding to the mix, Knobcone Pine and the Monterey Pine appear to be closely related, with some evidence that Monterey Pines and Bishop pines hybridize. I have found at least one tree that appears to be a hybrid of Monterey and Bishop Pines in a forest where the two species grow side-by-side.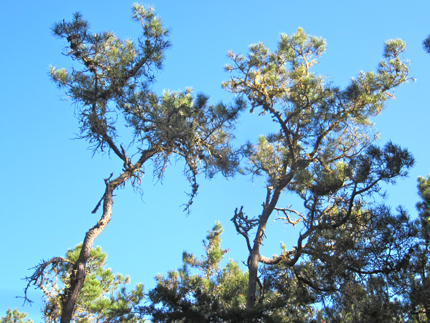 Bishop Pines at the northern end of the Santa Lucia Mountains. Throughout their range Bishop Pines occur near the sea, and more often than not, have twisted and bent upper trunk and branches in the crown.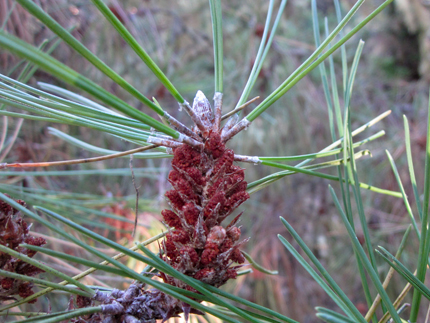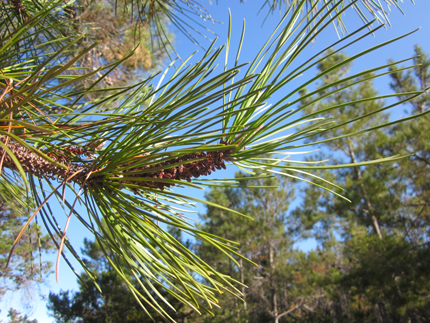 Needles and male pollen cones of the Bishop Pine. Needles are in clusters of two, 4-6 inches long when mature. Male pollen cone are about 1/2 inch long.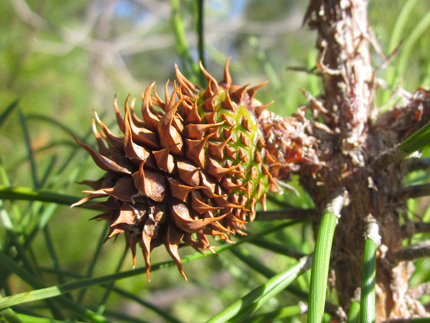 Young female cone and with sharp spikes.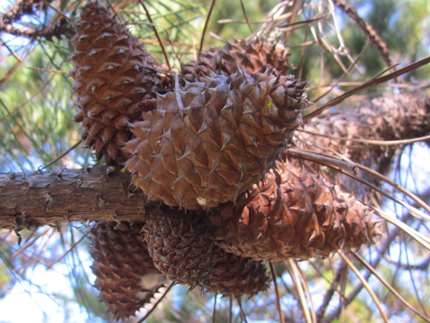 Female cones are close, redish in color, and with sharp spikes.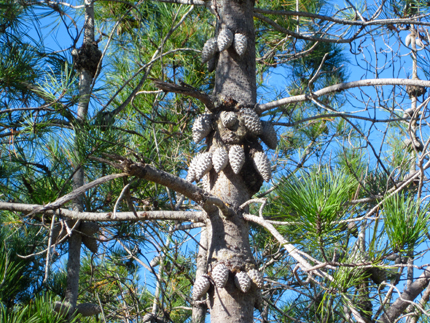 Female cones will remain closed for many years on the branch. Cones often grow in whorls around the trunk and branches with a clear downward orientation along the branch.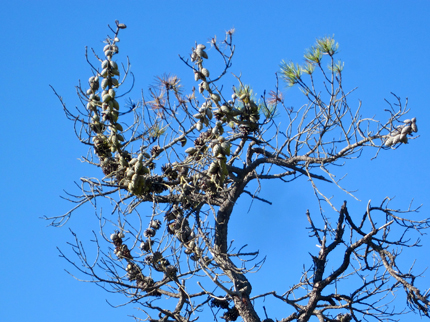 Old cones will often remain on the branch for years. Many cones need fire or extreme heat to release the seeds held within the cone.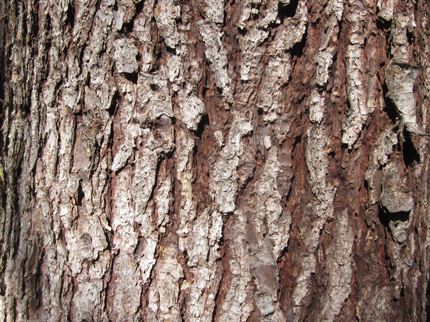 Bishop Pine bark on a mature trees has scaly ridges with the color ranging from gray to brown with some redish bark in the fissures.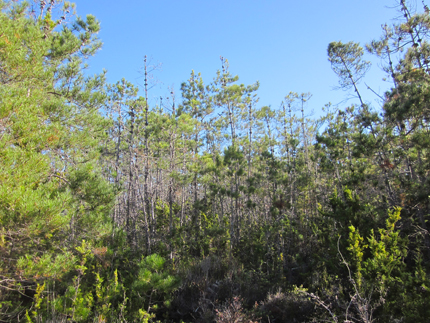 Thickets of young trees after a fire. These trees tend to grow straighter than those that have grown within establish vegetation.