Tassajara Zen Mountain Center
Tassajara Zen Center is located in a remote part of the Ventana Wilderness in the Santa Lucia Mountains and for centuries has been visited as a place of healing.
In 1966 the first Soto Zen monastery outside of Asia was established at Tassajara by Shunryu Suzuki Roshi and the San Francisco Zen Center. Tassajara Zen Mountain Center provides a place where students of Buddhism can withdraw from the busy world for a period of intensive meditation and study.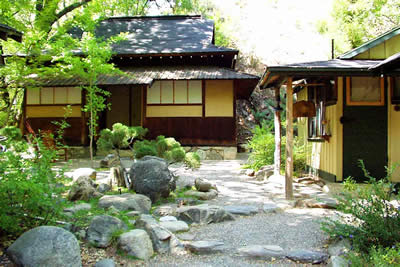 During the summer, May to September, guests are welcome to come and enjoy the unique beauty and natural hot springs of this secluded valley as well as Tassajara's renown gourmet vegetarian cuisine and fresh-baked bread.
The hot springs bathhouse is Japanese-style and has separate sides for men and women. Each side includes a tiled indoor hot plunge, an outdoor plunge, large decks appropriate for sunning and yoga, a steam room, showers and a small private bath with hot springs and cold water spigots. There are also steps leading down to the creek.
Guests are always welcome to join the residents for meditation and chanting every morning and evening. During guest season free instruction is offered.
Photos of Tassajara Zen Center
Photo Tour of Tassajara Zen Center as Slideshow
Visit the Tassajara Zen Center Website
Tassajara Reservations
300 Page Street
San Francisco, CA 94102
Reservations: (415) 865-1899 & Toll Free: 1-888-743-9362
Guest Season Information Line: (415) 475-9362
Tassajara Zen Mountain Center
39171 Tassajara Road
Carmel Valley, CA 93924
Driving Directions