Esalen Institute
The Esalen Institute is a non-profit organization founded in 1962 by Michael Murphy and Richard Price as an alternative educational center devoted to the exploration of what Aldous Huxley called the "human potential," the world of unrealized human capacities that lies beyond the imagination. Esalen soon became known for its blend of East/West philosophies, its experiential and didactic workshops, the steady influx of philosophers, psychologists, artists, and religious thinkers. Historical luminaries like Abraham Maslow, Joseph Campbell, Allan Watts, Fritz Perls, Allen Ginsberg, Ida Rolf, Joan Baez, and countless others have gathered here to develop revolutionary ideas, transformative practices, and innovative art forms.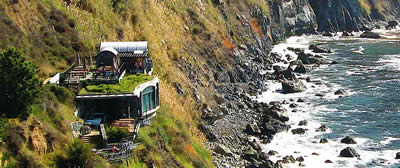 Esalen is situated on 27 acres of spectacular Big Sur coastline with the Santa Lucia Mountains rising sharply behind. It is renowned for its breathtaking grounds and is blessed with natural hot springs. Dramatically situated on cliffs overlooking the Pacific Ocean, the sacred beauty of the land—clear air, pulsing sea, garden path, and waterfall, steaming mineral water bubbling up from deep within the earth—is itself transformative.
The site of the natural hot springs (also known as the baths) is on the rocky ledge perched just 50 feet above the Pacific, is unparalleled in history and in its majestic beauty. These same healing waters have been flowing for centuries providing respite for Esselen Indians and early pioneers.
Today Esalen recognized as a world leader in alternative and experiential education. Now in its fifth decade, Esalen offers more than 500 public workshops and seminars a year, accenting personal growth and social change, in areas traditionally neglected by mainstream institutions. Esalen is also known for its research initiatives, invitational conferences, residential work-study programs, and long-term is a retreat center where people live and work in a communal setting.
Part pioneering lab and college for alternative practices, magical restorative retreat, and creative think-tank for the emerging world culture, Esalen is dedicated to exploring work in the humanities and sciences that furthers the full realization of the human potential. Residents and guests participate in an incredible variety of alternative education and personal growth programs in subjects ranging from meditation to massage, yoga, psychology, ecology, spirituality, art, music, wilderness, and much more.
Slideshow Photo Tour of Esalen
Esalen History (Work in progress: entering construction zone)
Esalen Institute
55000 Highway 1
Big Sur, California 93920
General Information: 831-667-3000, or
Email: At info@esalen.org. Due to the high volume of inquiries they receive, please allow up to 72 hours for a reply.

Esalen Reservations:
Toll Free in the USA: 888-837-2536.
Toll Free International reservation line: 703-342-0500.
Phone reservation lines ar open seven day a week, 9am - 7pm Pacific Standard Time.) The most opportune time to call is after 2pm on weekdays and anytime on weekends.