You didn't come into this world. You came out of it, like a wave from the ocean. You are not a stranger here. ~ Alan Watts
Ever since the supposed "primordial soup," nature has been our teacher. We were born of this earth and throughout recorded time people have turned to wilderness to awaken, become whole, and know their belonging to this world.
With wilderness as our primary teacher, we'll explore the way of nature, discovering as contemporary humans what it means to walk this pathless path. Hiking the wilderness trails of Big Sur, we'll balance the days between walking and quiet contemplation, active awareness exercises and simply being. As seekers immersing ourselves in the natural world, we'll also read and share the ancient and ecstatic voices of prose and poetic imagination. This wisdom passed through the ages deepens our intimate connection to ourselves, each other, and our wild nature.
The workshop includes day-hikes (4-8 miles) into the Big Sur backcountry. Indoor sessions will include an eclectic mix of informal sharing, awareness practice, and more poems of the wild. Previous wilderness experience is not necessary, although participants should be prepared for some vigorous physical activity. More information and a waiver will be sent upon registration. For an equipment list and frequently asked questions about Steven's workshops, visit FAQs.
($60 permit and park-entrance fees will be added to workshop cost)
Click here of pricing and housing selection.
For more informatin about how to get to Esalen: Esalen Directions.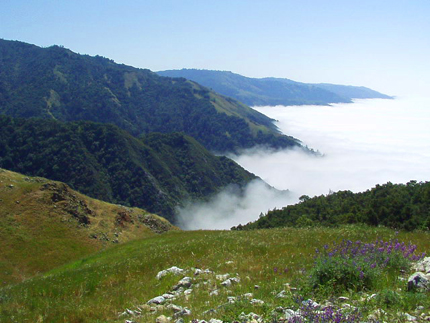 High above the fog the beauty of the Big Sur calls us to aliveness.