Torrey Pine Pinus torreyana
Torrey Pines are not native to the Santa Lucia Mountains, but are a unique California native. I have included them here for two reasons. First, Torrey Pines are rare and occur naturally in two very small areas of California. In all of the United States they are the rarest pine in the genus Pinus. Second, after being introduced to a bluff along the Pacific side of Highway 1 in Big Sur they have naturalized and are now slowly spreading their very small range.
Torrey Pines are variable in shape and size depending on location. The small enclave of trees in this region appear to reach mature heights of 30 to 60 feet. Their distinctly long needles are in bunches of five and are 9-12 inches long.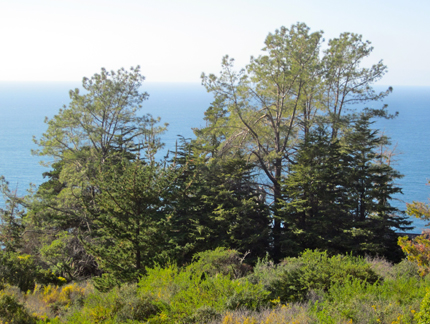 Torrey Pines on a seaside bluff in the central region of the Santa Lucia Mountains. These Torrey Pines (lighter green in color and taller than the surrounding trees) are mixed with Monterey Pines and Monterey Cypress.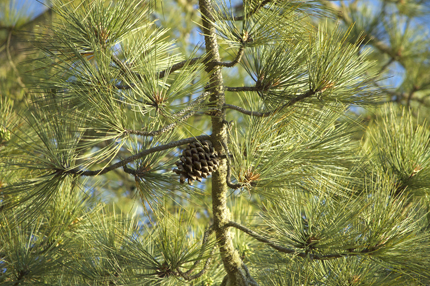 Needles and female seed cone of the Torrey Pine. Mature seed cones are often closed and are medium to dark brown. The cones open and gray with age. Female cones will remain closed for many years and slowly open remaining on the branch for over 10 years.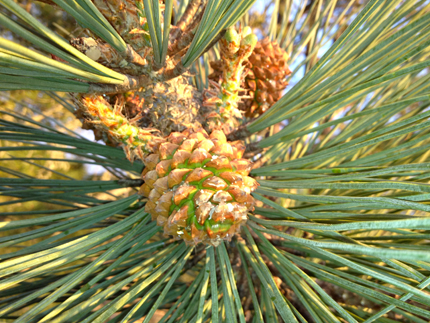 Young female cone.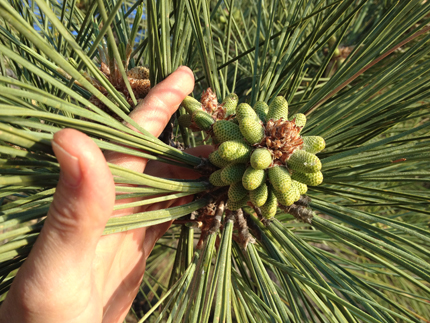 Male pollen cones are are unusually large relative to other pines.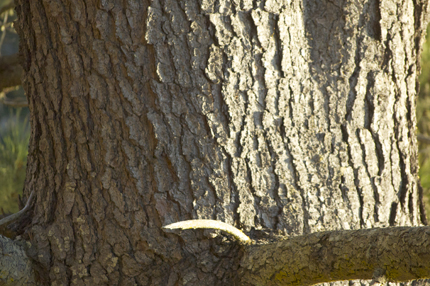 Torrey Pine bark on a mature trees has scaly ridges with the color ranging from gray to light brown. The trunk on this specimen is 2-1/2 feet in diameter.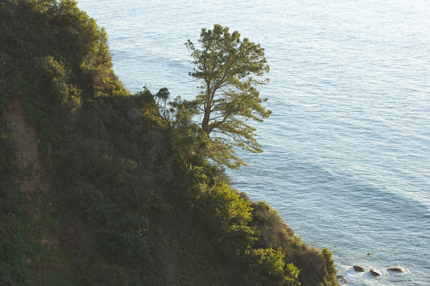 Torrey Pines here are slowly spreading their range from where they were initially planted. This one is down hill on a very steep cliff.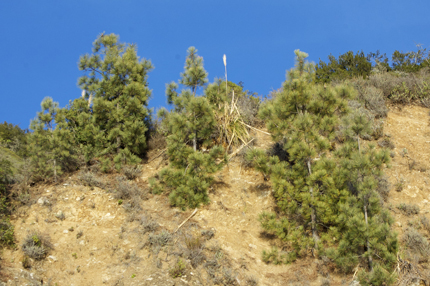 This group of Torrey Pines have jumped Highway 1 to the inland side. Here they grow in coastal scrub mixed with invasive pampas grass.